Australian Mountain Doodles
The Australian Mountian Doodle
We would like to tell you more about the Australian Mountain Doodle, (AMD). AMD's are a cross between an Australian Shepherd, Bernese Mountain Dog, and a Poodle. We here at High Standard Poodles & Doodles do not "double doodle" as some AMD combo's produce. It takes time to produce the perfect combo for this sought-after breed. The first generation begins with the magnificent laid-back personality of the loyal, Bernese Mountain dog and the fun-loving energetic nature of the Australian Shepherd. We call this combo the Aussie-Berner.  The next generation is where we mix in all the intelligence, curly/wavy coat, no shedding and hypo-allergenic, loving nature of the poodle.  This then gives us the perfect combo of all three breeds and produces Australian Mountain Doodles.  Other combinations of the three breeds listed above exist but overall, AMDs are one of the most sought-after designer pups available. These are medium to large-sized dogs with either wavy or curly coats. This breed is the perfect pet that interacts great with children, other pets and have proven to make great therapy and companion family members. 
We breed both the medium size and the standard size AMD's. The medium size ranges between 30-40lbs, while the standard size ranges between 50-65lb. 
The first-generation Aussie-Berner's color and markings are much of the beautiful tan points and white stripping of the Bernese mixed with beautiful Blue Merle of the Australian Shepherd, and if you are lucky the Aussies Clear blue-eyes. 
The second-generation AMD produces the wonderful doodle hair coat that is low to non-shedding, wavy/curly, just like an F1 generation should produce. This generation's coat color can vary depending on the color genetics of the poodle bred with the Aussie-Berner. We will produce some beautiful blue-eyed babies F1 generation and ready for their perfect family. To see our upcoming litters, touch the highlighted Upcoming litter for Australian Mountain Doodle babies.
Meet Cricket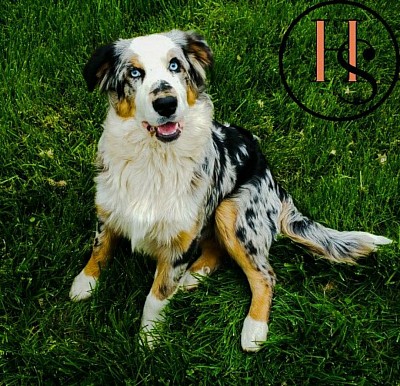 Cricket
Cricket is our Aussie Berner girl. Cricket's mom is a beautiful Australian Shepherd, and her daddy is a handsome Bernese Mountain Dog. She has the beauty of the blue merle mom with those vibrant sky, blue eyes while sporting the white on her chest, head and the beautiful tan points of the Bernese. She is a fun, happy, playful, loyal, healthy girl that is smart and loves to work on the farm.